We offer a variety of options when it comes to kitchen sink countertops.
Choosing the right countertops for your kitchen is not only important in terms of design, but also in terms of usefulness. The right material for kitchen sink countertops needs to be a material that is strong, durable, impervious to water, easily cleaned, and something that you will enjoy seeing daily. Here at Rock Solid Custom Countertops, LLC, we know we have some great options for your own kitchen sink countertops, and we would love to show you what we have.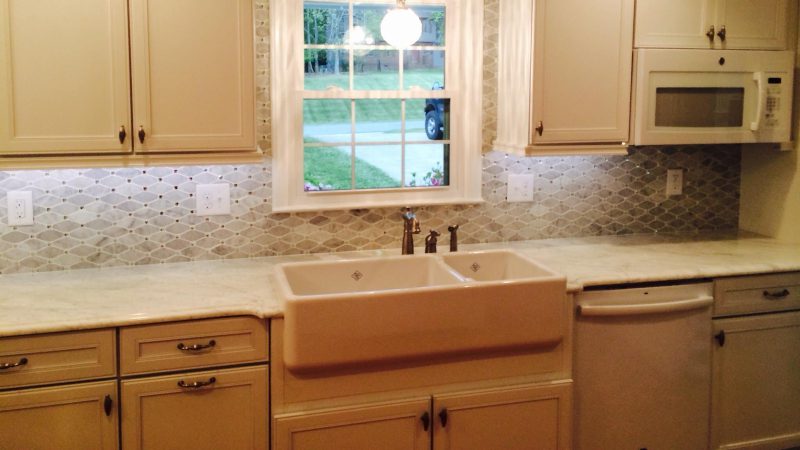 We offer some lovely stone options for kitchen sink countertops, as well as other types of countertops. Because stone is incredibly durable, easy to clean, resistant to heat and scratching, and easy to care for, it makes for a wonderful kitchen sink countertop material. Our stone options include materials like quartz, granite, marble, dolomite, and quartzite. We choose a wide variety of stone to ensure that we can always work with a wide variety of tastes and styles. If you are looking for a stone that is lovely and uniquely yours, we are ready to supply you with the stone you need!
Once we have selected the stone for your kitchen countertops, we will work on the measurements. We'll come to your Wake Forest, North Carolina home before starting the manufacturing process to ensure we measure correctly and perfectly. After we have your measurements, we can ensure your stone is cut and honed beautifully. Upon installation, we will mark and cut the areas necessary for a perfect fit around the kitchen sink and/or range. If you have questions about our countertop selection or installation process, we would love to talk more with you. Contact us today for more information.
FAQs About Kitchen Sink Countertops
At Rock Solid Custom Countertops, LLC, we offer exceptional kitchen sink countertops to our customers in the Wake Forest, North Carolina area. To ensure the best possible outcome, we welcome questions that can help you have the information you need to make an informed decision about the various materials available. We want you to know what to expect from start to completion so you have an exceptional experience. Here are some common questions about kitchen sink countertops:
Do I have to keep my current sink or can I have it replaced?
It is not uncommon to make a few other renovations when replacing kitchen sink countertops and replacing the sink is an ideal option. We recommend having already purchased the sink so that we can get accurate measurements so that your countertops will fit perfectly. The reason we suggest this is that issues can arise if the specifications given are not accurate or the sink you want ends up being unavailable when you go to purchase it later.
Do I need to replace my cabinetry to get new kitchen sink countertops?
Not usually, but there are situations where you should consider doing so. We will carefully assess your cabinetry to be sure it can support the countertops you desire and that they are in good condition. It is better to replace subpar or damaged cabinetry before proceeding with new kitchen sink countertops.
Can I choose different materials for the same project?
Yes. In fact, it isn't uncommon to choose one for the kitchen sink countertops and another for the island, or have a work area that has a different material, such as using marble for baking and candy-making purposes.
---
At Rock Solid Custom Countertops, LLC, we install kitchen sink countertops for customers in the Triangle area of North Carolina, including Raleigh, Wake Forest, Youngsville, Durham, Franklinton, and Louisburg.