Quality, custom countertops are what we do best.
Nothing dates a space faster than old, low-quality countertops. Conversely, nothing adds value, beauty, and modernity to a space quite like the addition of countertops fabricated from a quality stone. Whether you are building a new space in Wake Forest, North Carolina or renovating a current one, Rock Solid Custom Countertops, LLC is your top source for superior-quality countertops in the area.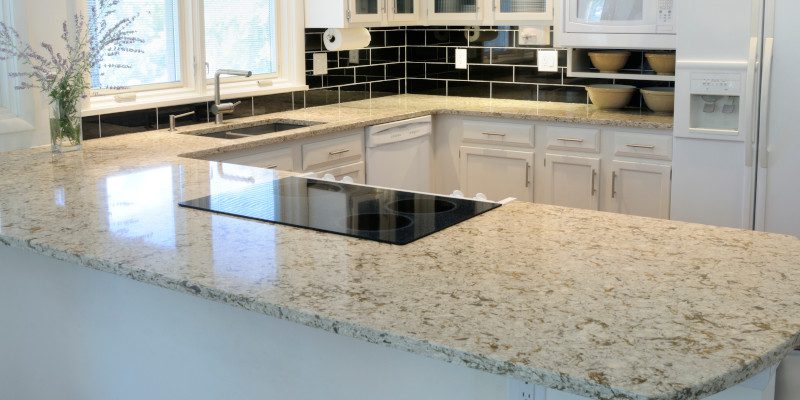 Here is what our countertop selection and installation process looks like:
Visit our showroom and browse the many materials we have available. At this point, you can make a selection.
Following the selection process, we will precisely measure and lay out your project, which allows us to give you an accurate quote.
We will schedule the day of the install and let you know what to expect.
Our professional installers will arrive at the project site and expertly install the new countertops for excellent results.
We will follow up with you to ensure your satisfaction and receive feedback about your new counters.
Truly custom countertops for exceptional project outcomes.
Choosing the Right Countertops for Your Space: A How-to Guide
When you are looking at redoing a kitchen, bathroom or any other space, one of the most important decisions that you will make is the countertop materials that you will choose. Here at Rock Solid Custom Countertops, LLC, we have a variety of countertops and materials for you to choose from and would love to help you make this crucial decision. If you are new to choosing countertops, here are a few factors you might want to consider.
Color- Countertops can be made in almost any color under the sun these days, especially when you consider man-made materials. If you are choosing a natural material, do your best to look at a large sample or slab before selecting since these colors can vary from sample to sample.
Materials- When choosing your countertop materials, you are able to choose between a mix of natural and man-made materials. Here at Rock Solid Custom Countertops, LLC, we have a variety of natural and composite quartz materials that are suitable for almost any space.
Lifestyle- Some materials are easier to care for than others while other are prone to showing more stains or smudges. Think about your lifestyle and how you will be using the space before making that decision. If you are going to be bothered by fingerprints on your glossy black countertop every day, then you might want to alter your decision.
Budget- When you consider your countertop budget, consider that you get what you pay for in terms of countertop quality. While there are some materials out there that are very inexpensive, these are also the materials that may dent, chip, scratch or scorch.
Here at Rock Solid Custom Countertops, LLC, we would love to help you make an educated decision when it comes to your countertops. To learn more about our variety of countertops, please give us a call today.

As a family-owned and operated business, customer satisfaction is what drives us and allows us to thrive within the home renovation industry. With over a decade of experience, we know exactly what goes into a quality installation, and we are eager to exceed your expectations. Visit our material showroom today to explore our countertop options and to start making plans for your upcoming installation. We can't wait to get started!
FAQs About Our Countertops  
When you need new countertops, there are many places that you could choose from. Here at Rock Solid Custom Countertops, LLC, we want to be the company you choose for all your countertops, no matter where they may be! If you have been looking for help with countertops, our team of experts is ready to get to work for you. We answer many questions regarding our countertops and services and hope that this FAQ section will be of interest to our clients. Here are some of our most frequently asked questions regarding countertops:
What type of stone do you offer?
We offer a wide variety of stone options for your space, including quartz, quartzite, marble, granite, dolomite, and solid surface.
Will someone come measure the space for my countertops?
Yes! Quality countertops come with great materials, but also attention to detail. Our experts will carefully measure your space to ensure that your countertops will have a perfectly snug fit.
What material is best for my space?
That depends on a number of factors, including the space in question, your personal preference, maintenance abilities, budgetary constraints, etc. We are happy to discuss your options further when we know more about your personal situation.
Do you take on small projects?
Yes! While we love big projects, we love small projects, too! We love the speed and quality that we can lend to even the smallest of spaces like vanities, laundry rooms, etc.
If you have questions about countertops or any of our other services, we want to help. For more information, please give us a call today.
---
At Rock Solid Custom Countertops, LLC, we install countertops for customers in the Triangle area of North Carolina, including Raleigh, Wake Forest, Youngsville, Durham, Franklinton, and Louisburg.
Similar Services We Offer: