We can help give your home a new look with custom natural stone countertops.
If you have been thinking of updating your Wake Forest, North Carolina home, but are unsure where to start, we can help. One thing that will make a huge difference in your home is to replace the countertops. Nothing dates a home more than old and outdated countertops. If you want to choose something timeless for your home that will not go out of style in a few years, we recommend custom natural stone countertops. These countertops will completely transform your home and add beauty and value to your property. You will be amazed at how much of a difference new countertops will make.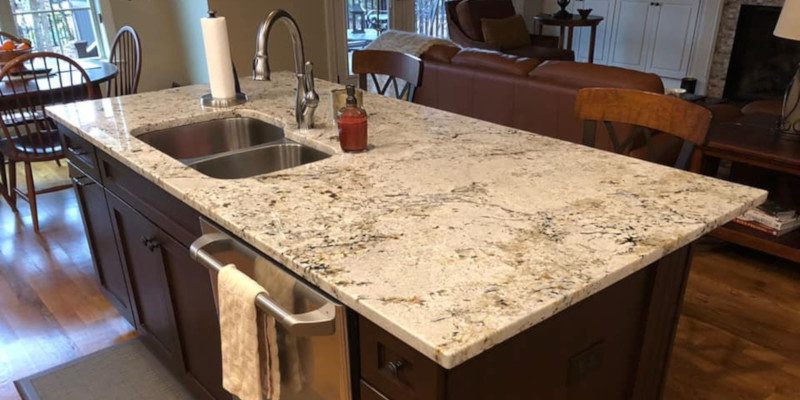 Custom natural stone countertops are perfect in both the kitchen and bathrooms. They can be sealed to prevent water damage. They are also very easy to maintain. Another great benefit of these countertops is that they can easily be cleaned and sanitized to make sure every surface is clean and safe for your family. These beautiful stone countertops come in materials like granite and marble. No two slabs are the same. They are natural and beautiful. Plus they can be custom-made to fit your space, giving you the perfect countertops for your home.
When all is said and done, you'll have the amazing custom countertops you want, expertly installed, and have enjoyed the process from start to finish.
Contact us today at Rock Solid Custom Countertops, LLC if you are interested in new countertops for your home. We have a wonderful selection of custom natural stone countertops, and we can even show you samples. This can help you visualize how they will look in your home. We do great work, and our prices are very reasonable. We can help you give your home the perfect new look.
FAQs About Custom Natural Stone Countertops
One of our most popular products here at Rock Solid Custom Countertops LLC is our custom natural stone countertops. If you have questions about these counters, keep reading to get the answers you need.
How should I care for my custom natural stone countertops?
The first thing you will need to do to keep your natural stone countertops in great condition is keep them clean by regularly wiping them down with a mild cleaner, as well as wipe up any spills immediately so that the counters do not get stained. In addition, you will need to treat your counters with a silicone impregnator a few times a year to fill up the pores in the stone and prevent staining in the first place—treat marble and limestone once every three months, and granite every six months.
Which stone is the best choice for my countertops?
Our team offers a variety of different stones for our custom natural stone countertops, but which is right for you is a matter of personal preference. In our experience, many people love the natural beauty of marble, but you should be aware that this material is more prone to scratches and stains before you choose it. We can provide more information on the pros and cons of each natural stone if you give us a call.
What are the benefits of custom natural stone countertops?
In our experience, our custom natural stone countertops never disappoint. They give your kitchen a beautiful, durable work surface that will continue to look great for years to come and serve as a great visual focal point for your design.