We enhance the outcome of your project with quality countertop installation.
Countertop installation is the final step that occurs before you get to enjoy your newly remodeled kitchen or before you present your building project to a client. At Rock Solid Custom Countertops, LLC, we expertly manage countertop installation projects in Wake Forest, North Carolina and throughout the surrounding area, and we are eager to enhance the outcome of your project with our high-quality installation work.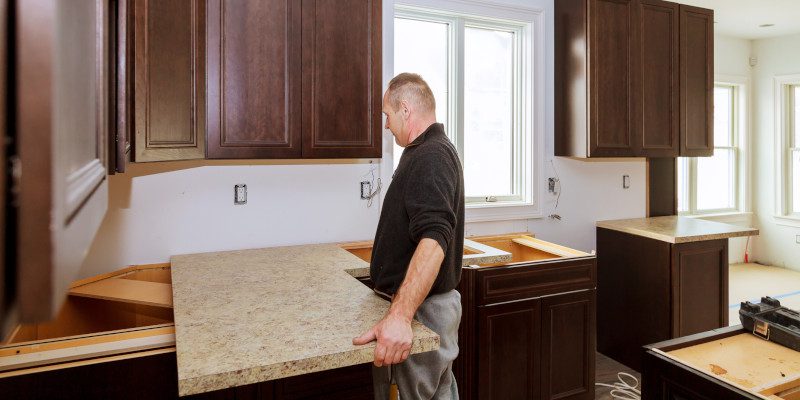 What happens during the countertop installation process? Here is a brief overview:
Before our installers arrive to put in your new countertops, we ask that you clear a space from the front door to the installation area. This will reduce how much difficult maneuvering our team has to do to move the heavy stone into the home.
Our installers will carefully remove the existing countertops and dispose of the old material properly.
We will place the slabs of stone on the countertop area and level the stone before carefully securing it. We'll take special care to ensure there is no unevenness in the surface.
At this point, we will cut holes for the range and/or sink. Expect there to be some dust that occurs during this process, but we will make sure to thoroughly clean it up.
Following installation, we will examine your countertops once more to ensure they will last a lifetime.
Expect nothing but the best from the countertop installation process when you work with us at Rock Solid Countertops, LLC! Visit our showroom today to view our countertop materials and to schedule a time for installation.
Countertop Installation FAQs & Answers
When you are in the market for new countertops, there are so many options to choose from! Sometimes the hardest thing about new countertops is simply deciding on the right option for your style, maintenance abilities and budget. Here at Rock Solid Custom Countertops, LLC, we have many different countertop options for every taste, space and budget. We are able to complete both large and small projects, right through to our expert countertop installation. We wanted to take this time to address some of our most frequently asked questions (FAQs) and hope you will find them helpful.
Do you measure the space beforehand?
Yes. About 1-2 weeks before your installation date, we will come and take several measurements. This will ensure that we get a perfect fit for your countertop installation date.
What if my floors or cabinets are not exactly level?
We place your countertops on the cabinets before the installation and check for any areas that are not level. We can adjust with shims (they won't be visible) to ensure that your countertops will be perfectly level even if your floors are not.
How long does the installation process take to complete?
The installation time can vary on a number of factors. Things like the size of the project, whether we need to add seams to your space, or adjustments that need to be made can add time. You might plan for 1-2 hours on average.
Will you remove the old countertops?
Yes. We'll take the time to ensure that your old countertop materials are removed and disposed of in a proper place.
If you have additional questions about our countertop installation service, please contact us today.
---
At Rock Solid Custom Countertops, LLC, we offer countertop installation services in the Triangle area of North Carolina, including Raleigh, Wake Forest, Youngsville, Durham, Franklinton, and Louisburg.