Stop by our showroom for information and to view the materials to choose from for your kitchen countertops.
You don't have to do a complete kitchen renovation to make your Wake Forest, North Carolina home look a bit more modern and be more functional. Just replacing the kitchen countertops can accomplish that and add value to your home. At Rock Solid Custom Countertops, LLC, we can help you make this upgrade with granite, quartz, or marble kitchen countertops.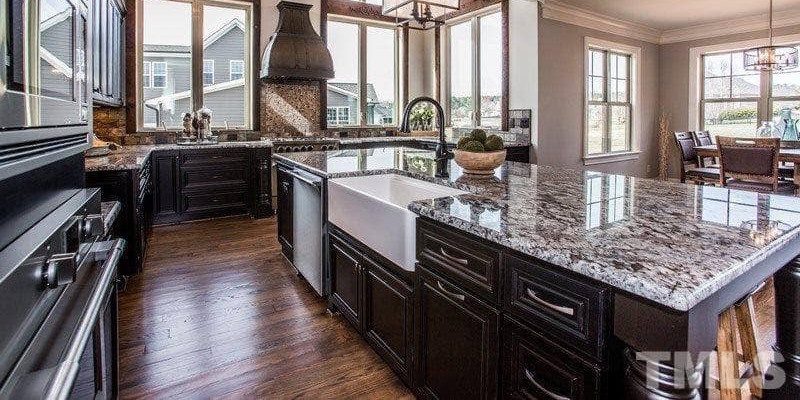 Each material has its own advantages and our knowledgeable staff is happy to share the key benefits of each type. They can also assist you with recommendations as to which styles and colors will best fit in with your existing cabinetry and the overall style of your kitchen. Of course, new kitchen countertops are also a component in a full renovation project should you decide to go that route.
What Material is Best for Your Kitchen Countertops?
Kitchen countertops are more than just a space for preparing food! Your countertops are a space where homework is completed, add an element of style and aesthetics, and an important part of your overall kitchen design. Here at Rock Solid Custom Countertops, LLC, we want to help you choose this ever-important element by thinking about what kitchen countertop material is best for you. Please consider the following:
Granite – Naturally occurring, beautiful and unique, granite has been one of the top contenders for kitchen countertop material for years. Because each slab is going to have different variations and veining, you will want to get a look at a large sample to choose your slab.
Quartz – Quartz countertops are an up-and-coming countertop material that many people love. While it is a manufactured material, it is made from incredibly strong quartz and other minerals, often recycled from granite, marble and other materials that have been crushed. These materials will look identical to the sample, are extremely easy to clean and maintain and many mimic expensive natural stones very well.
Marble – When you want a classic look that will stand the test of time, there's nothing quite like a luxurious marble slab! Kitchen countertops made from marble have a wonderful distinction to them due to the unique veining that differs from slab to slab. Known to stay cool, home chefs love marble for pastries and candy making, since it tempers chocolate perfectly.
If you are considering new kitchen countertops, we here at Rock Solid Custom Countertops, LLC would love to help you choose the best material for your needs. To learn more about our materials available, please give us a call today.
The only difference in the process of getting kitchen countertops from us is that we'll schedule installation as soon as your custom countertops are ready if you are doing just a countertop upgrade, whereas we'll schedule based on your renovation phases if you are doing a full project. Either way, you can count on our installation team to be professional and take meticulous care installing your new kitchen countertops to your complete satisfaction.
Whether you are in the beginning planning stage and need advice on the various materials or you are ready to select the granite, quarts, or marble for your kitchen countertops, we recommend coming by our showroom. Feel free to ask us all the questions you would like so that you can make an informed decision about your kitchen countertops.
---
At Rock Solid Custom Countertops, LLC, we install kitchen countertops for customers in the Triangle area of North Carolina, including Raleigh, Wake Forest, Youngsville, Durham, Franklinton, and Louisburg.
Similar Services We Offer: