Replacing kitchen countertops is a cost-effective way to transform the look of your kitchen.
It doesn't take a full kitchen renovation to make a huge impact on the functionality and beauty of your Wake Forest, North Carolina home. While that can be an exciting project, if you have a limited budget, just replacing kitchen countertops can make a big difference. At Rock Solid Custom Countertops, LLC, we create custom countertops that are ideal for anything from a minor renovation to a full remodel.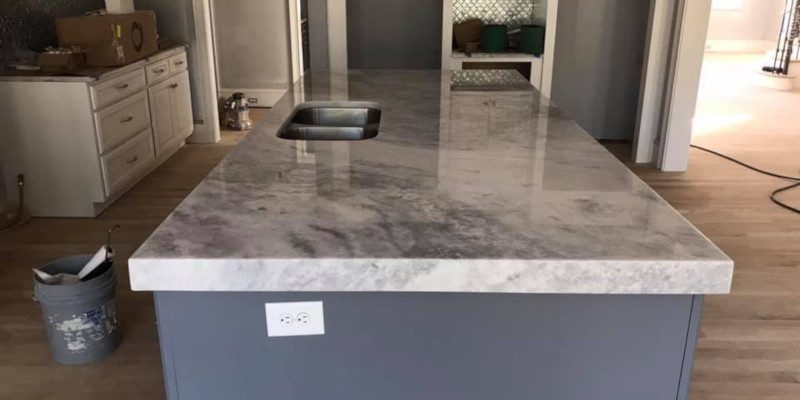 If you are interested in replacing kitchen countertops, you can come to our showroom to browse and get information about the different types of materials we can fabricate them from. Among your choices are quartz, quartzite, marble, granite, and dolomite. All our countertops are 100% custom so you can get the size, shape, and features that you envision for your kitchen. Nobody else in this area has a showroom and provides the personal attention that we do, so you can be confident that you'll be completely satisfied with the experience and the final result.
If you truly love your cabinetry but the counters aren't making the impression that you would like, replacing kitchen countertops is a cost-effective option. Whether you need all your countertops replaced or just one area, such as the kitchen island, we will work with you to create a custom piece that shows off your pride in your home.
If you have any questions about replacing kitchen countertops in your home, stop by our showroom to learn more or give us a call. We look forward to putting our more than 20 years of experience in the industry to work to transform your kitchen.
Replacing Kitchen Countertops Soon? Check Out These FAQs.
A kitchen is quite possibly the most important room in your home. Many people spend quite a bit of time in the kitchen over their lifetime and having an attractive and functional kitchen is a top priority of most homebuyers. If you are looking at replacing your kitchen countertops, we at Rock Solid Custom Countertops, LLC would like to help. Whether you are completely gutting or simply renovating your kitchen, we would like to answer some of our most frequently asked questions (FAQs) about the process of replacing kitchen countertops. Consider some of the following:
Can I replace my kitchen countertops but keep the cabinets?
In many cases, yes. If your cabinets are sturdy and in good shape, they likely will be able to support the new materials. However, if your cabinet doors are outdated or unattractive, then you might consider replacing the doors along with the countertops to enhance the entire look of your kitchen.
What types of materials are ideal when replacing kitchen countertops?
We offer many wonderful materials that work in kitchens, including quartz, marble, quartzite, dolomite, and granite.
Will the countertops fit properly?
Yes. We customize 100% of our countertops to fit your space, so there will not be unsightly gaps or ill-fitting countertops.
Do you have a showroom?
Yes. Our showroom has many large samples of materials that we can discuss with you. This provides a great opportunity to see the materials close up and learn about the different choices, colors and styles.
We hope that this FAQ section has been helpful when it comes to replacing your kitchen countertops. For more information, please contact us today.
---
At Rock Solid Custom Countertops, LLC, we specialize in replacing kitchen countertops for customers in the Triangle area of North Carolina, including Raleigh, Wake Forest, Youngsville, Durham, Franklinton, and Louisburg.