We offer custom granite kitchen countertops that are sure to transform your kitchen.
At Rock Solid Custom Countertops, LLC, we believe your experience in selecting countertops should be as unique as the granite kitchen countertops themselves. As a family-owned and -operated company, we bring more than 20 years of experience in the industry to the table and offer the only showroom in the Wake Forest, North Carolina area where you can browse and get information about the different types of countertops.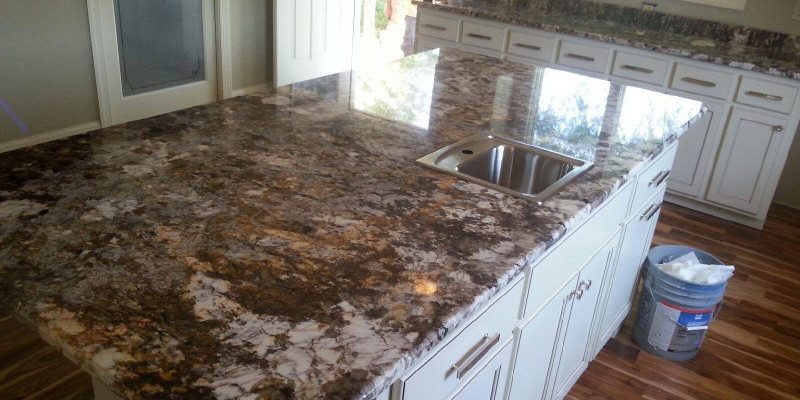 All of our granite kitchen countertops are 100% custom and every job is laid out and lined up specifically for our customers' space and needs. That is just one of the many things that makes us unique. Add to that our determination to give you high-quality results that add value to your home and you have the opportunity to transform your kitchen in a classic and stylish way.
Whether you are doing a full kitchen renovation or you just want to replace your kitchen island to make it a focal point of your kitchen, our granite kitchen countertops can represent a cost-effective option while giving you the high-end look you desire. By offering expert custom work, the only limit to your options is your imagination.
If you have questions about granite kitchen countertops, including whether this is the right type of countertop for your needs, don't hesitate to stop by our showroom or give us a call. We look forward to being a part of bringing the beauty and functionality of granite to your kitchen renovation project.
FAQs About Granite Kitchen Countertops
At Rock Solid Custom Countertops, LLC, we get numerous questions from customers in the Wake Forest, North Carolina area who want to know about more about granite kitchen countertops. We welcome those questions because we believe an informed customer is our best customer. The more you know going into your project, the more confident you'll be about your choices. Here are some common questions about granite kitchen countertops, but feel free to reach out with any others you might have.
Can I have one area that has something different than granite kitchen countertops?
Yes, this is absolutely possible. If you want your kitchen island to be different or a work area that has marble for the benefits it lends to baking and candy making, we are happy to accomplish that goal for you. You can also go with two different granite colors so you can have contrast, such as making the island stand out from the rest of your kitchen.
Do I need to change my cabinetry to get granite kitchen countertops?
Possibly. Granite is a heavy material and while most cabinetry can support it with no issue, some builder-grade cabinetry might not be able to support the weight of granite. It is also a good idea to change the cabinetry if you want the full renovation effect or your current cabinetry isn't what you ultimately desire for your kitchen.
Why would I upgrade to granite kitchen countertops without changing cabinetry?
If you love your cabinetry and it is in good condition, there is no reason to replace it. Upgrading the countertops can give you the luxurious appearance and functionality you desire without spending money on new cabinetry.
What are some of the benefits of granite kitchen countertops?
One of the reasons that granite kitchen countertops have been in favor for a long time is that granite is a very hard material. When you add in the luxurious appearance, affordability, and uniqueness of each piece of granite, and a countertop that is moisture, heat, and stain resistant, you have a great option that will give you lasting performance and enjoyment while also adding value to your home.
---
At Rock Solid Custom Countertops, LLC, we install granite kitchen countertops for customers in the Triangle area of North Carolina, including Raleigh, Wake Forest, Youngsville, Durham, Franklinton, and Louisburg.